Dhaakad Movie Review : Dhaakad Movie Review: Kangana Ranaut, who is called Bollywood Queen, will be seen doing tremendous action and stunts in her new film Dhaakad. You will miss Salman Khan's 'Ek Tha Tiger' and Akshay Kumar's 'Hey Baby' after seeing this film of Kangana.
Dhaakad Movie Review
Dhaakad Movie Review: Kangana Ranaut has appeared in this Dhaakad movie in the same way as you saw Salman Khan in 'Tiger' series or Akshay Kumar in 'Baby', that is, such a super secret agent. The one who kills or lifts the enemies of the country even after entering the enemy country by risking his life. For this, whether he has to change his disguise, someone has to be trapped in the love trap or how many people have to be removed from the path. In such a situation, there is tremendous action in the movie, but perhaps as much emotion and glamor of Kangana, so this movie can be a treat for Kangana fans. At the same time, to the rest, it is like a rest of the operations movie. 
Dhaakad Movie Cast
Kangana Ranaut
Sharib Hashmi
Arjun Rampal
Divya Dutta
Dhaakad Movie Director
Rajneesh Ghai
Dhaakad Movie Star Rating
3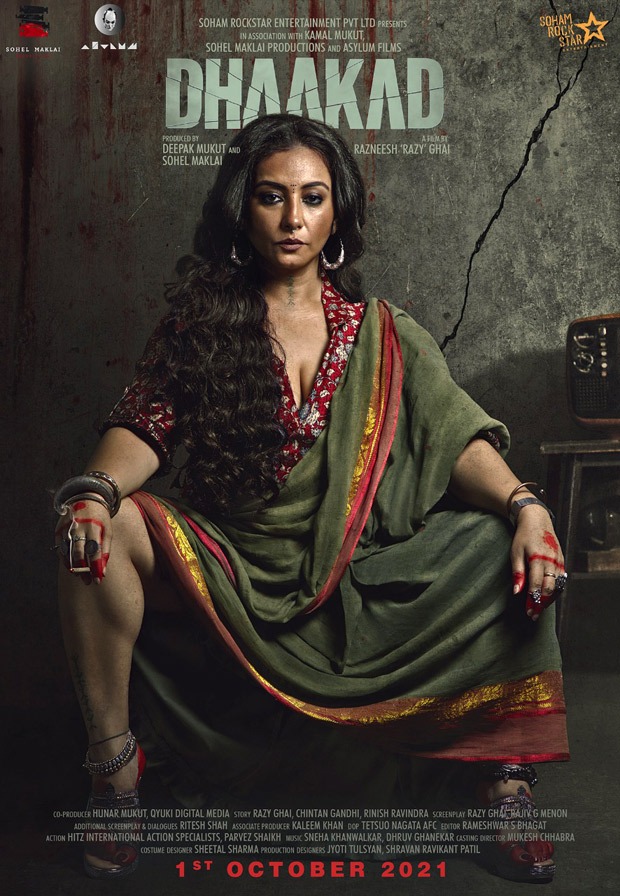 Father gets murdered in childhood
This is the story of a girl named Agni (Kangana Ranaut), whose father is murdered in her childhood. This shocks him so much that despite playing with threats every day as a secret agent, the scene of his father's murder often comes in front of his eyes. He does not get any benefit even from counseling.
The villain of the story is Rudraveer (Arjun Rampal), around whom this entire movie (Dhaakad) revolves. Arjun Rampal has made a comeback through this strong role and the hard work he has put in to adopt the Chattisgarhia tone of getup and colloquial is also visible. Rudraveer is in the business of coal theft and girl supply, due to which he does not hesitate to kill his father too. In which his partner Rohini (Divya Dutta) accompanies him. The operation against these two is the story of this movie, but there is also a twist. Divya's choice for this movie can be a bit confusing, because acting is strong in it too, but this serious and cruel image of her does not climb in the minds of people.
Kangana will see a lot of action scenes
Like this Kangana (Kangana Ranaut) gives her life from the very first scene, she has given great action sequences. She also works as a secret agent. But despite doing the action that Katrina had with Salman in Tiger, in less clothes, Kangana could not do it alone. But there is no hero in this movie (Dhaakad), so the whole movie is on the shoulders of Kangana alone. In such a situation, only Kangana fans can make this movie a hit.
Although a lot of hard work has been done on the characters of Arjun Rampal and Kangana, their getups also leave an impact. The movie is also short, of 2 hours 10 minutes, so it does not give you a chance to get bored. Sharib Hashmi also looks amazing without a mustache and with a Bhopali accent. The most powerful role is that of Saswat Chatterjee. Those who would have seen him in Jagga Jasoos would have a good idea of ​​what an amazing actor he is. Here too the role of Secret Service Chief is effective.
A lot of hard work has been done on the dialogues
The specialty of the movie is Kangana Ranaut's new and different attitude, great action sequences, cinematography, people's getups and some dialogues too. Just like I am the daughter of a bania, before the Guddi I pay attention to the Gaddi or else I do not kill the father, the government has been brought down. For this, Ritesh Shah's hard work will have to be praised. The screen play is by Rajeev ji Menon and is quite tight. Director Rajneesh Ghai has also worked hard in the screen play. Earlier, he has made films like Money Control and Ishq Bector.
But Kangana has a movie, so she has worked hard. From anywhere, Kangana is not seen speaking much in this movie, only the dialogues of the count are spoken. She talks about work and is seen in action more than speaking, in a very rough and tough style. Music may be the weak side of this movie, but it doesn't have much scope in a tight paced action film.
Film is a treat for Kangana's fans
Its casting is also good in comparison to Maze, Tumul Balyan and Gabrielle have also got good roles. Overall, those who like action will like this movie (Dhaakad). For Kangana fans, it is like a treat. Yes, it would be redundant to have expectations like KGF or RRR.